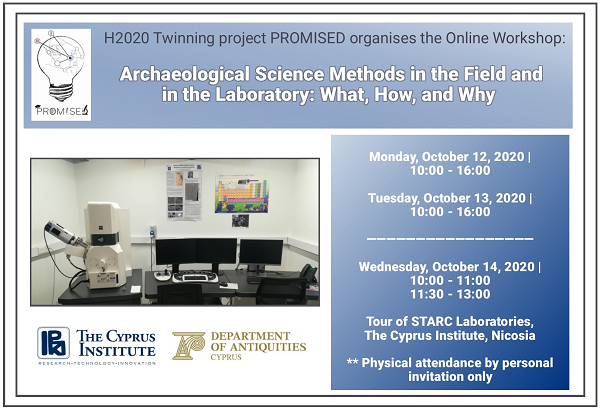 ---
Monday, 12 & Tuesday, 13 October
Monday: 9:30 am - 16:00 pm | Tuesday: 09:45 am - 16:00 pm (all times are local Cyprus time)
Venue: NTL Events Room, 1st Floor, The Cyprus Institute, Nicosia
This online workshop can be attended in person after expression of interest subject to limitations in place regarding COVID-19.
To attend the event in person, please contact This email address is being protected from spambots. You need JavaScript enabled to view it. to register.
---

The event will be streamed live via The Cyprus Institute YouTube and Facebook channels.
You can find more information about the event including the program at the event's website here
---
The Cyprus Institute teams up with the University of Cambridge and KU Leuven to advance Archaeological Science research in the Eastern Mediterranean and Middle East (EMME), supported by a 3-year grant from the H2020 Widening support action 'Twinning'.
The Promised: Promoting Archaeological Science in the eastern Mediterranean' (Grant No 811068) project forms a three-node network of excellence in Bioarchaeology and Archaeological Materials Science within the Science and Technology in Archaeology and Culture Research Center (STARC) at The Cyprus Institute and linking it with the internationally-leading advanced research centres in Archaeological Science at KU Leuven and the University of Cambridge.
As part of the Promised project, STARC in collaboration with the Department of Antiquities organises a two-day workshop, "Archaeological Science Methods in the Field and in the Laboratory: What, How, and Why", from the 12th to the 13th of October (venue TBC) in Nicosia.
Scientists from STARC, University of Cambridge and University of Leuven will focus on sampling procedures in the field and methods of analysis in the laboratory on organic and inorganic archaeological materials
---
You can watch a recording of the presentations by following the corresponding link below.
---
---
---